ARLO'S BEARD OILS
Make your beard look and feel amazing! Our intensive moisturizing formulas are 99% natural and nourish your beard and skin to prevent beardruff, irritation and itchiness.
3-IN-1 CLEANSE CONDITION SHAVE
Arlo's 3-in-1 cleanses and conditions hair and even delivers one heck of a close shave too.
Loaded with Argan oil to strengthen, hydrate and protect the hair, scalp and skin.
SHOP NOW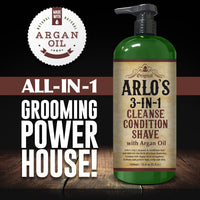 Follow Us On Instagram